Announcements
---
Performance Schedule
RALPH KUSTER'S SHOWS IN 2016-2017
Legend
Christmas Show
Timeless Treasures
A Special Valentine's Show
A Tribute to Frank Sinatra and Friends
A Tribute to St. Patrick's Day
A Tribute to Elvis, Neil, and Friends
New Year's Eve Show
A Tribute to Classic Country
Variety Show
A Tribute to Broadway and the Movies
Gospel Show
Date
Location
Time
Address
Tickets
Type
12/15/16
Winter Ranch
RV Resort
7pm
600 State Hwy. 495,
Alamo, TX
956-783-4587
12/16/16
Winter Green Estates
7pm
500 North Bryan Rd.,
Mission, TX
989-708-0921
12/17/16
Winter Haven Village
7pm
1015 West Sam Houston Blvd.,
Pharr, TX
605-868-1088
12/18/16
Valley View Estates
7pm
2100 Vernon St.,
Mission, TX
916-813-9635
12/19/16
Tropic Winds
RV Resort
7pm
1501 N. Loop 499,
Harlingen, TX
956-423-5484
12/20/16
Bentsen Grove Resort
7pm
810 N. Bentsen Palm Dr.,
Mission, TX
956-585-0703
12/21/16
Bit-O-Heaven
6:30pm
1051 W. US Highway 83,
Donna, TX
603-396-2786
12/23/16
Rio Valley Estates
7pm
715 N. Westgate Dr.,
Weslaco, TX
956-998-9651
12/31/16
Park Place
8-1am
5401 West Bus. 83,
Harlingen, TX
956-412-0375
01/08/17
Sunshine
RV Resort
6:30pm
1900 Grace Ave.,
Harlingen, TX
956-425-7448
01/17/17
Trails End
MH & RV Resort
7pm
c/o Mr. Brad Magnusson,
Weslaco, TX
956-351-5701
01/27/17
Lazy Palms Ranch
7pm
3500 Lazy Palms Dr.,
Edinburg, TX
319-795-9024
02/17/17
Eastgate Park Resort
7pm
2100 Harrison Blvd.,
Harlingen, TX
608-397-3782
02/23/17
Paradise Park
Resort Estates
7pm
301 East Acres Hall,
Pharr, TX
956-502-5207
03/14/17
Alamo Rose Resort
7pm
938 South Alamo Rd.,
Alamo, TX
956-783-2605
---
List of Shows
Below are all of the two-hour shows, including a 15 minute intermission, that Ralph can perform:
Now reserving performances for the 2016 through 2019 seasons! For information concerning a performance by Ralph at your facility, please see Contact Info.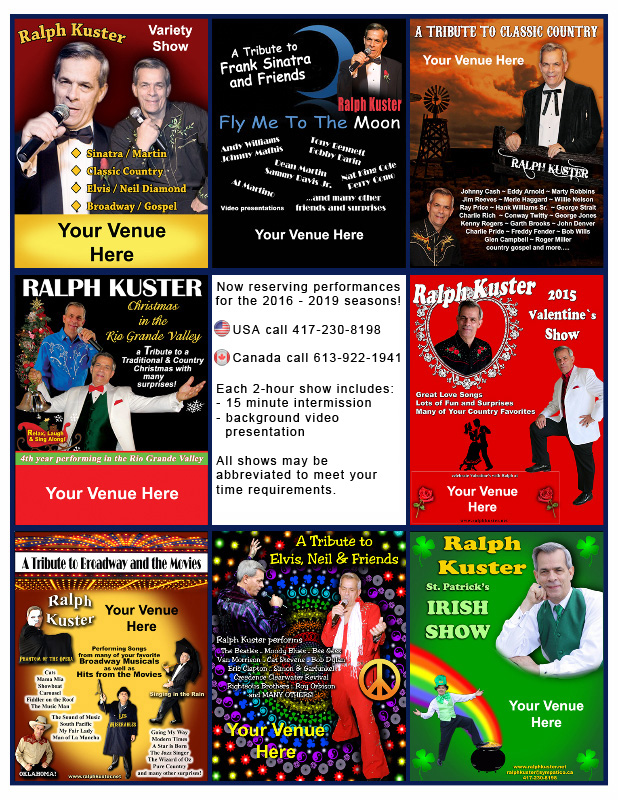 ---
Hear Ralph perform some songs at www.wintertexaninfo.com.
---
Please feel free to listen to the 60 song clips on the site. We feature approximately 30 seconds of each song for your review.
The CD, More Songs For You, was released in May 2005, featuring 20 songs consisting of country, soft rock, and show tunes.
A Song For You was released in February 2004.
Another Song For You was released in December 2003.